The Huntsman: Winter's War – Review with Stixen Stones
Stixen's Spoiler Free Review
Do you enjoy films that can't be saved by amazing talent like Charlize Theron? How about convoluted fantasy films so sexist that not even Chris hemsworth's shoulders and smoldering talent can't fix? Well then this film is the one for you!
Warning! Spoilers fly below this point!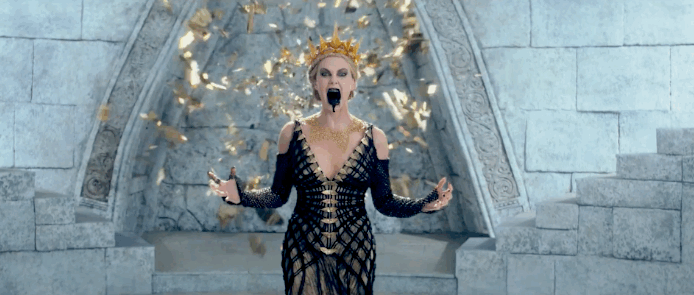 So, my opening thoughts in the theater were literally: "What is Liam Neeson doing here?"
Stixen: And rightly so. The movie spent a surprisingly massive sum I'm sure just to have Liam Neeson read two paragraphs of narration in a two hour film.
He was just another element in the Let's-Throw-A-Bunch-Of-Tropes-Together-And-Pray Stew that was this movie.
Stixen: You couldn't be more right. It was as though the writers just sort of tossed every trope into a hat and threw them onto the floor to determine the order of the plot and just said, "Yep. That'll do it!"
They couldn't even decide if it was a prequel or sequel. Let's sum up the negative stuff so we can get on to an in-depth costume discussion, because that's why people went to see this movie in the first place – honestly.
I didn't like the fact that women gained power through men's betrayal (heartbreak=kick ass ability, magical or otherwise). I also found the dialogue/plot painfully shallow and oblivious. They kept tossing the word "love" around like it would make up for the fact that the second sex scene was literally a case of 'her lips say no, but her body says yes!' or the fact that the secondary romance focused on the fact that two people enjoy drinking water after exercising and eating roast chicken.
I found the constant comparison between the dwarfs and children downright rude. All in all, this movie is proof that no matter how big your budget is, how many amazing actors you cast, and how much you spend on costume design, you still need actual plot to make a film worth the light used to project it.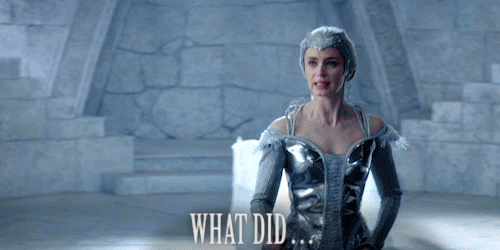 Stixen: I couldn't agree more. The women who had power all received it through being overtly bitter. Each one of them was eventually stripped of her power for the Huntsman's true power – which he gained through being effortlessly goofy? Even the sassy dwarf woman was SO close to breaking the glass ceiling, only to fall into a forced romance with a dwarf who she spent the whole movie hating. Each of the women had plans that were thwarted. Meanwhile, the Hunstman comes up with a "bad" plan that just works? I was exhausted by the outright sexism involved in this plotline.
As for the dwarves, I couldn't even tell you where to begin. I'm so disappointed in the treatment of little people in the media – much less using them as a comedic crutch. I'm exhausted. I was REALLY pulling for the main dwarf woman to fall in love with Chris Hemsworth and have them end up together, considering the flirtation was REAL during most of the film.
Amen. On to the fun stuff! I enjoyed the unity between the sisters created by the feather elements in the Emily Blunt's costumes and visual effects. It gave her a very Swan Lake look, which implied tragedy while also echoing her sister's birds.
Stixen: Agreed! Colleen Atwood did the costumes for this one. She's one of my favorites. She's done many of Tim Burton's films, as well as Into the Woods, among many others. Her designs are really stunning. I've always loved her costumes for this film series. Evil queens are clearly her specialty. While Emily's costumes were nowhere near as stunning as Charlize's, they were still brilliantly designed.
What were your favorite aspects of Charlize's costumes?
Stixen: I think that Charlize, of course, looks amazing in everything. But the fluidity of the garments is so beautiful. Colleen has such an amazing eye for details that most people won't notice, but they sell the character in the long run. My all time favorite was Charlize's bone wedding gown from the first film. So gorgeous and so chilling.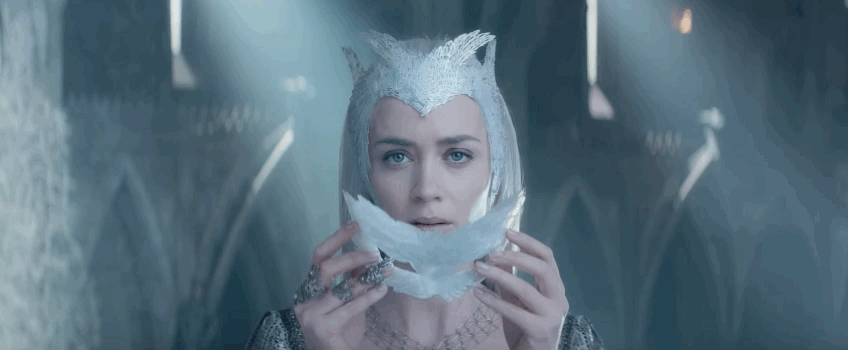 Official Heel Rating:
I give it two heels, one for the costumes and the second for the actors who really did do their best despite a shit script.
---
M. Leigh Hood is a rare beast of the Cincinnati wilderness typically preoccupied with writing, nerding, and filming The Spittoon List. For more articles and stories by M. Leigh Hood, look HERE.